We established our enterprise in the end of 1990s as a combination of a useful hobby and a way of earning an honest living. We are ready to face any challenge concerning blacksmithing and complete any project as well as carry out maintenance works and reproduction of forged objects dating from the past.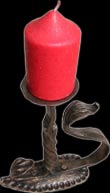 We also produce our own designs using mainly traditional methods of smithing such as riveting, or fire welding etc. We are firmly convinced that handmade objects of utility and beauty take priority over those composed of machine-made elements.
The pictures, which you can find on our website, present some of our achievements. If you find them appealing and have always dreamt of having something exceptional and unique- do feel welcome.